I need a light for a customer who had relied on one multi-bulb candelabra to illuminate a modern kitchen. A single Sylvania 70732 is not bright enough, at 900 lumens, 13 watts, 3000°K.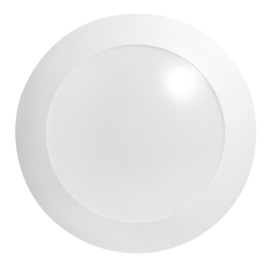 It seemed a sure thing, that
I would find adequate light with an Amax Lighting LED Cloud Fixture in the largest version, 19" diameter,
LED-R003 CLOUD-MUSHROOM 35 WATT COOL WHITE 19",
2900 lumens, 35 watts, labeled
4000°K
.
http://amaxlighting.com/ledcloudfixtures.aspx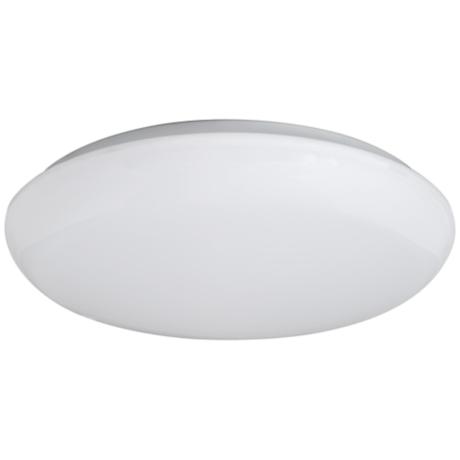 The Amax image is from LampsPlus, which proudly has this as an early LED offering. I found it more conveniently, and at less cost, at Lowe's

atgstores.com

online listing.
The LED array is not impressive. Very central, not dispersed to fill the lens.
On a good Cooper DAL06P dimmer, there is constant very-annoying flicker. This should not be sold as dimmable.
By several means of side-by-side comparison, I find the brightness is over-rated, being actually quite a bit less than 2000 lumens. Please find my studies at Google Docs.
Looking For A Big LED Surface-Mount Light
To view photos at Google Docs, please download.
Where this light is misrepresented in both brightness and dimmability, it must be pulled from sale by the distributor,

Amax Lighting

, of Santa Fe Springs, CA. It is offered proudly as one of the few LED luminaires sold by LampsPlus, and by several other online sellers, with shipping from Amax. All sales, though there are not many yet, give a bad taste of LED lighting. I have found other LED surface mount lights sold carelessly, not dimmable. I don't see that surface-mount should be cheaply accepted. I see a best near-term future in surface-mount LED lights, of lights like

Lithonia 7" LED Versi Lite

, with AC LEDs. There is no AC to DC converter block in the way of very simple mounting. The Versi Lite does very well, what it claims.
For my customer here, I installed a bulky

Utilitech Pro 21.65" Flushmount Ceiling Fixture

. I had seen this in a Lowe's store. looking rather bright, as bright as claimed. It will do. I question its claims only in color temperature. I think mine (now the customer's) is about 3700°K, and like that better than label 41
00°K. On a later visit to Lowe's, I found a Utilitech Pro 21.65" on display, with lens quite bug-littered. These big surface mount lights are not well sealed against bugs, and that will be a growing complaint.